Carrera® World in Oberasbach
Our hotel bomonti is an official partner hotel of the Carrera® World.
Welcome to the world of endless racing fun!
Oberasbach becomes a number 1 destination for young and older motorsport freaks. On the 8th of April, 2016 the Carrera World (in the Oberasbacher Strasse) opened its gates – in direct neighborhood of our hotel bomonti, only a few kilometres away from the Carrera birthplace "Fürth".
Recommendable also for our business guests!
Allow yourselves a well deserved time-out after your appointments ;-)
The unique Carrera® World offers more than 2,200 m² for the whole family. Test your racing talent on spectacular racecourses for adults and children, take off in the air-area or satisfy your thirst for knowledge in the exciting motorsport-museum .
With original reproduced dream cars constructed in small scale everybody discovers the racing driver in itself.
In five topic-based car racetracks hot duels with car models true to original will be fought out to find the new king of the road.
Cool Drifts, reckless overtaking manoeuvres, bright eyes – in the Carrera® World young and older motorsport freaks find what their hearts desire!
Clever Carrera® RC pilots steer their RC vehicles over the steep curve, go past oil barrels, driving under a bridge and back.
In the air-area the quadrocopters and helicopters of Carrera® RC are ready to fly around illuminated pylons and to make cool air-stunts.
Especially for small Carrera® pilots "Captain Carrera®" opens his games room.
Offside the racetracks the Carrera® World is of course all about motorsport. In the exclusive Carrera® museum in changing exhibitions you can admire interesting informations, historical vehicles and rare collector's items from the world of the roaring engines. Interested people can also catch up on the moving history of the brand Carrera®.
In the embedded Flagship Store you can purchase awesome Carrera® products.
You will find current events and information here: www.carrera-world.com
(currently only in german)
For families we offer at our hotel:
Water kettle (tea/coffee)
free parking (subject to availability)
Late check-in until 10:30 p.m.
» Individual request
» Online-booking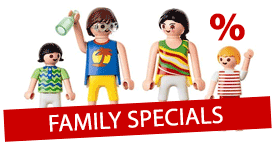 Opening hours and fees
Opening hours Carrera® World
Wednesday – Friday
2:00 p.m. to 8:00 p.m.
Saturday and Sunday
10:00 a.m. to 10:00 p.m.
Closed on Monday and Tuesday
Opening hours Carrera® Store
Wednesday – Friday
2:00 p.m. to 8:00 p.m.
Saturday 10:00 a.m. to 8:00 p.m.
Closed on Monday, Tuesday and Sunday
Paddock for Kids
Paddock ticket per person € 8,00
including 30 minutes driving time on the Carrera® race track
(only for children's area, free use of RC vehicles in the children's area)
Pit lane for adults
Ticket per person € 10,00
including 30 minutes driving time on the Carrera® race track
(only for race tracks 1-4, no time restriction for RC vehicles, consultation with the racing manager)
Search for: Carrera World, Family Packages, Arrangements, Carrera Fun World