Playmobil® FunPark in Zirndorf
Our hotel bomonti is an official partner hotel of the Playmobil® FunPark.
Pirates, knights, Indians – the FunPark offers children the chance to slip into the roles of their favorite PLAYMOBIL® figures. Children's dreams come true!
The little ones can make their fantasies a reality in the oversized PLAYMOBIL playtime worlds while Mom and Dad enjoy the relaxing park atmosphere.
A unique day for the whole family is guaranteed.
Slip into the center of activity and movement and show your courage and your skill, in order to discover the exciting FunPark world.
A visit to the FunPark is always worth a trip thanks to its wide range of activities!
Location
Reachable in about 15 minutes by foot!
Just 4 minutes' driving time!
In short: As a guest in our hotel, the short distance to the Playmobil® FunPark allows you to spend the whole day completely relaxed.
Our different hotel offers:
Baby cots
Babyphone service
Water kettle
Free parking if you book directly through our website
Arrival until 10:30 p.m. possible
» Individual request
» Online-booking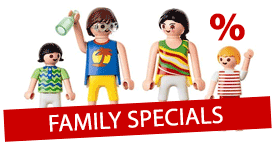 Opening hours and fees
(Winter Season see below)
April 8 – April 30, 2017
Monday–Sunday 9:00 a.m. to 8:00 p.m.
Fee: day pass € 9,00
from 3:00 p.m. € 7,00
May 1 – September 11, 2017
Monday–Sunday 9:00 a.m. to 7:00 p.m.
Fee: day pass € 11,00
from 4:00 p.m. € 8,00
September 12 – November 5, 2017
Monday–Sunday 9:00 a.m. to 6:00 p.m.
Fee: day pass € 9,00
from 3:00 p.m. € 7,00
Parking fee: € 5,00
Car parks: covered and open, women's parking area, disabled parking spaces
Search for: Playmobil FunPark, Playmobil Park, Playmobilland, Playmobil Fun Park, Playmobile FunPark, family packages